Chicago After Hours

The Buzz Club
After Hours, After Work, DJ, Happy Hour, Live Music, Specialty Cocktails, Neighborhood, Singles, Bars, Clubs, Dance Floor, Food Served

Funky Buddha Lounge
After Hours, Romantic, Singles, Bars, Clubs

Club Mystic After-Hours
After Hours, Bars, Clubs, Dance Floor

Odyssey Moonlight Jazz Cruise
After Hours, Live Music, Clubs

Moda
After Hours, DJ, Specialty Cocktails, 21 & Over, Singles, DJ - House, Clubs, Smoking Permitted

[ More Bars ]
Chicago Nightlife

The Night Life is the Good Life - Chicago, IL
by: Gerry Clark



More on Chicago Nightlife:



"The night life ain't no good life, but it's my life," B.B. King sings in the Willie Nelson-penned "Night Life." Obviously the legendary bluesman wasn't thinking about Chicago.

Especially after a day-long, on-the-dogs experience at Worldwide Food Expo, night time is indeed the right time for some well-deserved R&R...just don't make it too late (unless you literally want to hit the show floor the next morning).

The city offers action extending from theaters to music clubs to taverns and beyond, opening the door to all kinds of evening-time excitement.

In particular, Chicago boasts an explosive music scene, punctuated by a roster of authentic blues clubs (and no, House of Blues isn't one of them) that showcase some of the biggest names and premium talent to hit a stage anyplace.

Perhaps the best known of these blues clubs is Kingston Mines, 2548 N. Halsted St. (phone: 773/477-4647), which celebrates its 31st anniversary this year and features newly expanded surroundings. This nightspot lives up to its slogan "Ain't Nothing But the Blues!" with a twin-stage scenario oozing energy and authenticity.

This is the real thing, with top-caliber musicians exploiting a tension-and-release explosiveness that'll knock your socks off. And dig this: Kingston Mines is open seven days a week with doors opening at 8 p.m. and the musicians ripping up the joint beginning at 9:30 p.m. and jamming into the wee hours of 4 a.m. daily and 5 a.m. on Saturdays. The club also encompasses Doc's Rib Joint, which dishes up barbeque ribs, wings, catfish and other items for late-night stomach filling.

Staying in the blues vein, there's Buddy Guy's Legends, 754W. Wabash Ave. (312/427-0333), which faces an uncertain future due to a change in ownership of the property on which the club stands. (So enjoy it while you still can.) This is guitar great Buddy Guy's club and the sign on this corner-block club bears his image in an intense instance of six-string fury--a harbinger of the doings on the inside.

Legends has proven a favorite impromptu jam spot of big-name musicians visiting the Windy City, including members of the Rolling Stones and Guns 'n' Roses, who've jumped on the club's stage absent any prior publicity. So, you never know just who might be in the room when visiting this club. Add billiards tables within earshot of the stage, and you've got a winner.

New York City might boast a more prominent jazz scene than the Second City, but Chicago is no slouch when it comes to presenting what's been called America's classical music. Certainly in the top-notch category--and possibly the best of the city's jazz spots--stands the Jazz Showcase, 59 W. Grand Ave. (312/670-2478).

Once an integral part of the Blackstone Hotel, this hot spot has changed locations several times in its multidecade existence, but the prime purpose remains: present the nation's top jazz talent in intimate and thoroughly comfortable surroundings. Club owner Joe Segal secures absolutely grade-A names to fill his entertainment rosters. Drummer Elvin Jones, the late trumpet master Dizzy Gillespie, saxophonist Pharoah Sanders, guitarist Kenny Burrell and organist Jimmy Smith are just a few of the legendary jazz musicians who've offered audiences improvisatory explorations from this club's stages.

Straddling the line between straight-ahead jazz and a more avant-garde atmosphere stands the Green Mill Cocktail Lounge, 4802 N. Broadway (773/878-5552). In my book, any club containing Stan Getz's samba hit "Desafinado" on the juke box is a winner. Sunday nights traditionally have featured the Poetry Slam, in which word-slingers can hop on stage to recite their verse... or doggerel as the case may be. Some of these spoken-word episodes have included jazz group backing or electronic music experimentation. Expect the unexpected.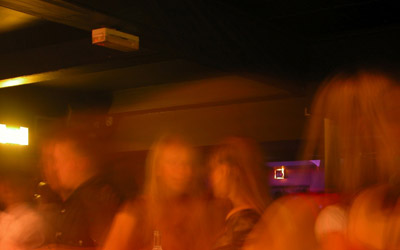 Besides drinking and bars

Prepared to have the bejeezus scared out of you? Look no further than Richard T. Crowe's Supernatural Tours. If you think that ghosts and spooks confine their hauntings to old Scottish castles or Salem, Mass., think again. Crowe, who claims to be Chicagoland's "original and only full-time" ghost hunter, reveals the region's cold spots on a nighttime bus tour that has participants visiting the haunted St. Valentine's Day Massacre site, viewing a totem pole that "came to life," and pursuing legendary ghost Resurrection Mary among other eerie goings-on.

As a participant of one of these tours several years ago, I can tell you that a surprising number of the city's watering holes seem to feature spirits (both kinds), so you might face a difficult time separating reality from exaggeration after a few visits to the tap. The deep-voiced Crowe is perfect at weaving a tale and sparking the imagination. And Worldwide Food Expo attendees are in for a special treat since the show falls smack dab in the middle of the Halloween season.

Crowe is offering a limited edition Halloween tour at $40 per person. The tours kick off from Goose Island Brewery, 1800 Clybourn, (see what I mean about this gin mill stuff?) with the journey starting at 7p.m. and ending at midnight. Also included is a champagne toast (enough already!).

A supernatural cruise on Lake Michigan also is available exploring ghost ships, a lake monster and more. For further info or to register for a tour via credit card, call 708/499-0300.

If your idea of a relaxing post-expo evening is taking in a movie, why not make it just a little bit different? While no longer sporting a genuine silver screen (a fairly recent casualty), the Music Box Theatre, 3733 N. Southport Ave. (773/871-6604), recalls the American theater's halcyon days.

Built in 1929, the twin-screen facility's main theater offers a trip back in time with ornate furnishings as well as a ceiling featuring constantly moving images of clouds and dots of light resembling stars. Self-consciously artsy in its flick selection (nope--no George Clooney or Sandra Bullock movies here), the Music Box's ambience adds to any movie-going experience.

For Halloween weekend, the theater is presenting the 1922 German silent horror classic Nosferatu with live theater organ accompaniment. How's that for dawn-of-cinema authenticity? Also coinciding with the expo are midnight showings through Oct.30 of George Romero's 1968 original Night of the Living Dead.

Whether it's a blues club's sweat-inducing excitement, the more-refined pleasures of an intimate jazz club, a hair-raising horror experience or expanding your tastes with an out-of-the-ordinary movie, the Windy City offers the ticket to make the night life the good life. And perhaps your most fun Worldwide Food Expo experience.

COPYRIGHT 1999 Cahners Publishing Company
COPYRIGHT 2000 Gale Group